About System Three Epoxy General Purpose Resin

Today, in most wooden boat shops, epoxy resin systems are the main resin systems used in the construction and repair of small and large wooden boats. Polyester resins have little application in the construction methods used today by modern wooden boatbuilders and restorers.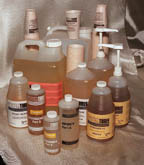 Epoxy systems offer superior adhesion, toughness, resiliency, and moisture resistance. When engineered properly, an epoxy fiberglassed or coated wood surface will last. It is unlikely to crack, split, or delaminate. System Three Epoxy has an indefinite shelf life, has almost no odor, and is D.O.T. classified as non-flammable. This eliminates the handling, storage, and shipping problems associated with polyester resins.

System Three Epoxy is used in the construction and fiberglassing of strip built canoes and small strip boats, traditional plywood construction, stitch and glue plywood construction, and cold molded construction, to mention a few. System Three Epoxy is an excellent choice when fiberglassing, coating, and gluing new wood construction.

The "workhorse" of the SYSTEM THREE RESINS line, this 100 per cent solids, unfilled, medium modulus epoxy system works extremely well for new wooden boat construction and repair as well as for gelcoat blister repair and general repair of fiberglass boats. Used at a simple 2:1 volume ratio with any one of three hardeners SYSTEM THREE EPOXY has excellent pot life and cure time control, allowing use at temperatures as low as 35 degrees F and with no limitations on humidity. System Three epoxy will cure to a very tough resilient clear film.

The medium low viscosity of System Three epoxy allows it to be used "as is" for coating and fiberglassing. With the addition of different fillers it is an excellent choice for adhesive, filleting and fairing compounds.

Hardener selection should take into account the minimum temperature expected during application and cure along with the required pot life. SYSTEM THREE hardeners may be blended with each other to provide a continuous range of cure times within the extremes of the fast (#1) and slow (#3) hardeners. Refer to The Epoxy Book for help in making a proper selection. Hardeners or resin can be purchased seperately.